Info from thestar.com.my : The 40 wealthiest Malaysians are worth US$62.1bil (RM188.32bil), up by US$11.1bil (RM33.7bil) compared with last year, according to the latest rich list published by Forbes Asia. In a statement yesterday, Forbes Asia said the combined wealth was almost 22% more than the list in 2010.
"The better coffers come on the back of the country's healthy economy which grew 7.2% last year, the highest rate since 2000," it said. The first two spots were still occupied by Tan Sri Robert Kuok Hock Nien and Tan Sri T. Ananda Krishnan, respectively.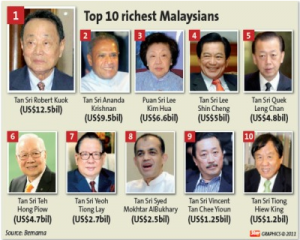 1. Kuok, 87, has held pole position since 2006 when Forbes Asia began ranking the 40 richest Malaysians. He was worth US$12.5bil (RM38bil), up by half a billion from last year. His biggest source of wealth was his stake in Wilmar International, the world's largest listed palm oil company.
2. Ananda, 72, was at No 2 with US$9.5bil (RM28.83bil), up from US$8.1bil (RM24.6bil) last year.His Maxis Communications Bhd is Malaysia's biggest cellphone service provider.
3. At No 3 is this year's biggest gainer in dollar terms, Puan Sri Lee Kim Hua. The 81-year-old, widow of casino magnate Tan Sri Lim Goh Tong, was one of three women on the list this year. Her Genting shares took off when the company's Singapore operations on Sentosa Island opened, boosting the family's net worth by US$2.7bil (RM8.2bil) to US$6.6bil (RM20.03bil) from a year ago.
4. Tan Sri Lee Shin Cheng, who built IOI Group into one of the world's biggest palm oil producers, fell down a spot at No 4 with a net worth of $5bil (RM15.2bil), up by US$400mil (RM1.21bil) from last year.
AirAsia Bhd's Datuk Seri Tony Fernandes, budget airline pioneer and Forbes Asia's 2010 Businessman of the Year, was ranked No 20 this year, down one spot from last year despite his wealth increasing to US$470mil (RM1.43bil) from US$330mil (RM1bil) last year.
The only newcomer this year was Chia Song Kun at No 24 with US$400mil (RM1.21bil). The share price of his QL Resources Bhd, the seafood, egg production and palm oil company, has doubled since last year.
Datuk Tony Tiah Thee Kian at No 35 was the only returnee to the list after a year's absence as stocks in his TA Enterprise Bhd have recovered. He was worth US$170mil (RM516mil).
Not all did well, however, as there were three this year who saw their wealth reduced, led by Tan Sri Vincent Tan at No 9. The self-made entrepreneur, who runs Berjaya Group, saw his wealth decline to US$1.25bil (RM3.8bil) from US$1.6bil (RM4.9bil) last year.
Timber tycoon Tan Sri Tiong Hiew King was the only person who did not see any changes to his wealth. He was still worth US$1.2bil (RM3.64bil) and ranked No 10.